randomdreams @ :
I twisted my ankle last night and it hurts to walk on it. I learned this by mowing about 1/3 of the yard today and coming to the conclusion that I should not continue such activities.
So today I went on a 100 kilometer bike ride, because that's not walking.
I rode over to
manintheboat
's workplace. (On the way I saw two bald eagles, who have a nest on the creek, and six people dredging or panning for gold.)
So, off to work, to fix a light. When I moved the track lighting so that the cabinets
skazat
and I put in can have their doors open, the track lights no longer worked. I had to put a junction box up against the wall above the suspended ceiling, and thought maybe I'd messed that up. Nope: someone wire-nutted the switch pigtails by putting them side-by-side and screwing a wire nut on top a little bit. It had come loose when I pulled the switch to see if I needed to/could pull a new wire to avoid the j-box. (and having to use the hammer drill to shoot holes in the cinderblock walls for attaching the j-box. Over my head, in a tiny space. But that was the Right Way to do it, so I did it.) Anyway now that works.
We went over to Bob's Atomic Burgers for lunch. The place is awesome. They have all sorts of midcentury tech on the walls: geiger counters, metrology stuff, old telescopes. They hand out names rather than taking yours. We got Beyonce. Someone else got Miss Piggy. They have great burgers and great shakes. (In my case, chicken, but ya know.) (uh, chicken burger not shake.) There was a nonstop stream of cyclists riding by, to watch.
Then over to the library.
Dudes. I found a book called Calculus For The Forgetful. I found a book called A Visual Encyclopedia Of Steam Tractors. I have no idea why we don't live in Golden.
Anyway, then on up The Hill.
Here's an extremely old picture of the road.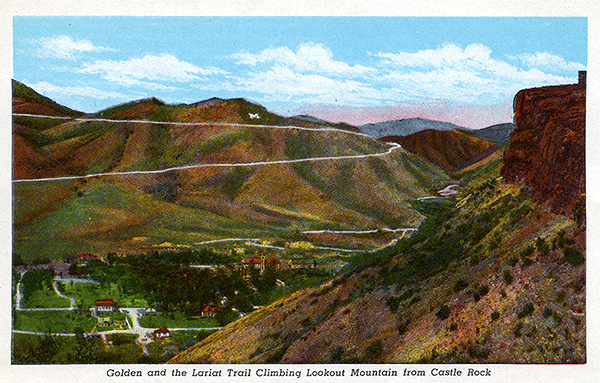 It's 5 km of steep climbing. It's awesome. Stream of cyclists and kids on crotch rockets playing around on it. I chugged up it, got passed by a dude. Even in Boulder, even with really serious riders, I can usually at least hang on drafting them. I've drafted pro riders. But Lookout -- that's where I go to get completely demolished. Plus I'm all oh good grief WHY did I eat a huge burger just before doing this? OOooooogh.
Elk at the top all over the road.
I got to talk to a paraglider who was paragliding. He'd found a big updraft and was practically hovering over the road. I want to try that some day.
Then down the Frontage Road by the Interstate. I passed a semi that was on the highway itself, but didn't actually go that fast this time. Too windy, and I was feeling nervous and old.
Down the C470 trail, which is long, long, and long, then back up the South Platte, by which time I'd run through all my water and was SO HUNGRY. I was so glad I'd eaten a burger. I needed to have eaten more.
and home.